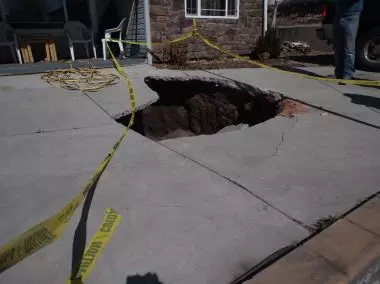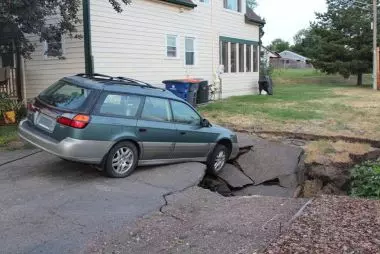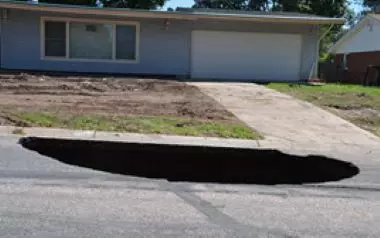 Subsidence is the movement of the earth's surface caused by the collapse of underground mine tunnels or shafts. Wherever coal has been mined, underground voids are left behind. Overlying layers of rock and earth naturally tend to sink or shift to fill these voids. When that sinking or shifting reaches the earth's surface, it is called mine subsidence. Subsidence may occur regardless of the age of the mine, the depth, or how much coal was mined or left behind.
The Mine Subsidence Protection Program (MSPP) was established to pay for damage to Colorado homes that results from coal mine subsidence. The federal government, which shares reclamation fees levied on current coal production with the states, has given Colorado a $3 million grant to establish the Program. The money, invested in a trust fund, is designed to provide a self-sustaining fund to cover claims and help offset administrative costs. Over 1,000 participants are currently enrolled in the program.
Participation in the Program is limited to privately owned residential structures of one to ten units which have been constructed in an area of historic coal mining before February 22, 1989. A historic coal mine is defined as one that ceased operations prior to 1977.
An inspection fee of $200.00 is included in the first year enrollment fee of $235.00. Continued participation in the Program requires a $35.00 fee/year. After receiving the $35.00 fee for three consecutive years, the participant shall not be required to pay any further fees as long as the original participant owns the property.
Coal mine subsidence can occur at any time and cause extensive and costly damage. Many Colorado homeowners whose property has been located over coal mines do not know that their homes may be vulnerable. If subsidence were to happen, the cost of repairs can be thousands of dollars. And conventional homeowners insurance won't cover the damage. The Mine Subsidence Protection Program offers an inexpensive means to safeguard you against losses from property damage, up to $100,000 per occurrence up to the value of the home.
No, it is not. In fact, no insurance coverage designed specifically to address the damage due to mine subsidence is currently available. Most homeowners' policies specifically exclude subsidence events.